Once again the McCarthy Auto Group is proud to sponsor the annual Cy Middleton Memorial Basketball Tournament, in partnership with the Olathe Police Department. McCarthy will also donate $5,000 to the charitable event, with $1,000 earmarked for a special college scholarship fund. The annual scholarship will benefit a graduating high school senior with a parent that is employed as a full-time law enforcement officer or firefighter whose agency is participating in the tourney.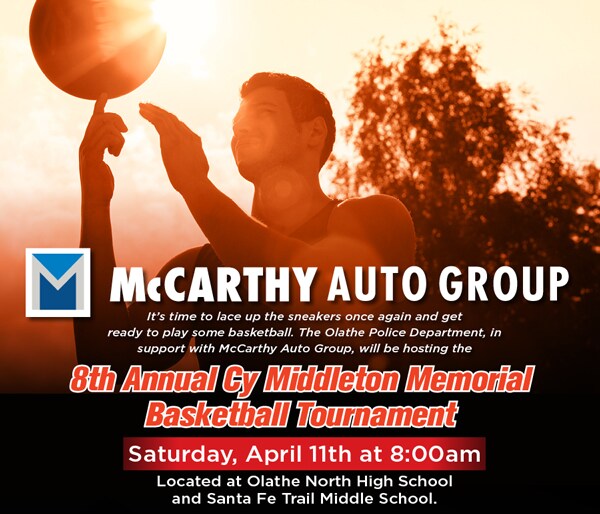 Now in its eight year, this charity hoops event will be held on Saturday, April 11, 2015 at two locations: Olathe North High School, located at 600 E. Prairie, Olathe, KS; and at Santa Fe Trail Middle School, located at 110 North Ridgeview, Olathe, KS. Opening ceremonies begin at 8 a.m. in the Olathe North main gym.
Some of the scheduled fun activities will include:
Basketball shooting competition
Barbecue lunch
Photo booth
Bake sale
Health and Wellmobile™ health screenings
The highlight of the event will be an exciting basketball tournament featuring members of our local police, fire, and emergency services personnel.
Proceeds from this year's Cy Middleton Memorial Basketball Tournament will go to help four deserving families:
The family of slain Police Officer, Jason E. Harwood of the Topeka Police Department - Corporal Harwood was tragically shot and killed Sept. 7, 2014 in the line of duty while honorably serving and protecting his community. He was a decorated officer who received the Medal of Merit, Distinguished Service Bar, Department Challenge Coins, and the Medal of Valor, which was presented posthumously to his family. He leaves behind his loving wife, two sons, and his K-9 partner, Magnum.
Retired Olathe Police Officer, Nancy Vaughn - After having capably serving her community for the past 23 years, Nancy is battling serious medical issues. She was a Patrol Officer and D.A.R.E. Officer, as well as a member of the Olathe Tactical Support Unit, and Hostage Negotiation Team. She was also a Field Training Officer. She received many commendations and accolades during her distinguished career with the Olathe Police Department. Additionally, she was a tireless advocate for the Special Olympics.
Olathe P.D. Traffic Patrol Officer Michael Roy Kern - Corporal Kern passed away suddenly on January 20 of an apparent heart attack. He was a D.A.R.E. instructor in Cass County and a member of the Missouri Tactical Officers Association, as well as the Fraternal Order of Police. In 2000, Kern was voted "Officer of the Year" by his fellow officers. During his tenure with the Olathe Police Department, Kern served as Field Training Officer and was transferred to the Traffic Unit in 2006. He is survived by his wife Denise, three children, and his parents, Marvin and Kathy Kern.
Johnson County, KS Sheriff's Office Lieutenant Jim Cossairt - Lieutenant Cossairt has been serving in the Investigations Division of the Johnson County Sheriff's Office. In 2012 he was diagnosed with colon cancer, which had been in remission until 2014. Recent bloodwork indicated that his cancer has returned and is now Stage 4, having spread to his lymph nodes and lungs. He is currently undergoing extensive chemotherapy to battle the disease. Lieutenant Cossairt is married with four children. He also recently started caring for his two nephews and is very active in his church.
The Cy Middleton Memorial Basketball Tournament is named for Olathe P.D. Police Officer Cy Middleton, who died after a short and hard-fought battle with lung cancer, leaving behind a wife and two month-old son. Since the establishment of the Tournament, numerous officers and their families have been helped by the annual charity event.
Anyone wishing to donate to the Cy Middleton Memorial Fund may do so by making a check out to the "Cy Middleton Fund" and mailing it to:
Cy Middleton Benefit Fund
c/o Enterprise Bank And Trust
444 East Santa Fe St.
Olathe, KS 66061
All of us throughout the McCarthy Auto Group, which includes seven
auto dealerships near Kansas City
, encourage the local community to come out and support this most worthy cause supporting those brave men and women who have sworn to "Protect and to Serve."