The McCarthy Auto Group family of dealerships in the Kansas City area is pleased to announce that proceeds from its third annual "McCarthy 2000 Sales Event" will go toward granting wishes for three children suffering from life-threatening diseases through Make-A-Wish® Missouri.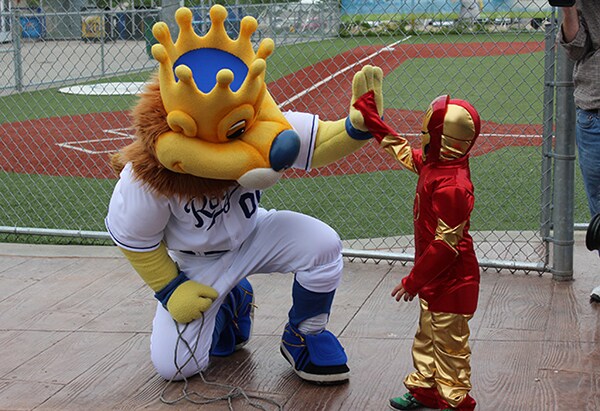 Six-year-old Isai's wish of becoming a superhero comes true, with help from Kansas City Royals mascot Sluggerrr. Photo credit:

Make-A-Wish® Missouri
This effort is the third year McCarthy Auto Group is raising funds for this worthy charity. From July 1 through Aug. 31, the company will donate $10 for every new or pre-owned vehicle sold at its seven Kansas City area car dealerships. The goal is to donate $20,000 to grant three wishes for three deserving children in the Kansas City metro area.
The story of the Make-A-Wish Foundation dates back to 1980 when Tommy Austin, a US Customs Agent, and Ron Cox, an officer of the Arizona Department of Public Safety (DPS), arranged to grant the wish of a boy dying of leukemia. Seven-year old Chris Greicius wanted to be a police officer and "catch bad guys." After a helicopter ride and a tour of DPS headquarters, Chris became the first and only honorary DPS officer. Officers even arranged for an official DPS uniform, along with motorcycle officer's wings. After his passing, Chris was buried in his home state of Illinois with full police honors.
"He was only seven years, 269 days old when he died," Austin said. "But he taught me about being a man, even though he was only a boy. I can tell you that because of meeting Chris, I am an entirely different man."
Chris's courageous story touched the hearts of many. The officers and people connected with granting Chris's wish to be a police officer realized that other children with serious, life-threatening diseases needed the same kind of opportunity to have their wishes granted. Thus was born the
Make-A-Wish Foundation
.
After raising its first $2,000 as an official charitable organization, the Make-A-Wish Foundation granted its first wish to a young boy also suffering from leukemia. The boy, Poncho Salazar, wanted to be a fireman, go to Disneyland, and ride in a hot air balloon. The Foundation arranged for him to become an honorary member of the Phoenix Fire Department. In Anaheim, Poncho went to Disneyland. The Anaheim Fire Department arranged for the boy to tour Southern California.
In 1982, a nationally televised news story by NBC Magazine turned the spotlight on the efforts of the small, Arizona-based Make-A-Wish organization. After airing, the phones at the Arizona Department of Public Safety began ringing off the hook. May 1983 marked the beginning of the national Make-A-Wish Foundation. Today, the national organization grants a wish of a deserving child with a life-threatening medical problem every 38 minutes. In 2012, the Foundation granted wishes to nearly 14,000 children nationwide. Make-A-Wish International has 37 affiliates in more than 36 countries on five continents. More than 30,000 volunteers and generous donors have granted more than 310,000 wishes worldwide.
Make Wishes Come True at McCarthy Auto Group this August
It's our heartfelt wish that you will participate in our Third Annual
McCarthy 2000 Sales Event
Make-A-Wish fundraising drive. Stop by one of our
Kansas City car dealerships
from July 1 through Aug. 31 and purchase a vehicle. It will help us grant wishes that will put smiles on the faces of three deserving kids in our area.
Sources:
http://mo.wish.org/
?http://wish.org/
Photo Credit:
?http://mo.wish.org/wishes/wish-stories/i-wish-to-be/fy-2014/isai-superhero
?