Imagine a vehicle that parks itself, and then lets you retrieve it when needed. Riding the wave of the all-electric future, Chevrolet dramatically unveiled the newest member of its growing EV (electric vehicle) family, the revolutionary Chevy Bolt hatchback concept, to an enthusiastic audience of automotive industry executives, automotive journalists, and the general public at the 2015 North American International Auto Show in Detroit.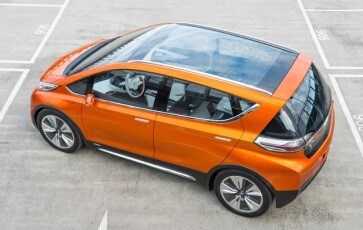 Inspiring Innovation
Joining the redesigned, next-generation Chevy Volt four-door and Chevy Spark, the new Bolt explores a number of innovative design features, including a full-length glass roof and wraparound rear window, as well as lightweight aluminum wheels with clear inserts between the spokes to reduce drag.
The Bolt's futuristic "dual cockpit" interior features a sleek, minimalist center console containing a large 10-inch touchscreen display that appears to float above the dash. Another, smaller screen serves as the Bolt's instrument cluster, communicating speed, range, and other key information to the driver. The Bolt's radical-looking steering wheel features touch-sensitive controls instead of regular buttons to control audio, phone, and other functions. The modernistic center console features a unique, handle-shaped shifter. Capable of comfortably seating four adults, the Bolt's interior is surprisingly roomy for a small car, with generous headroom and legroom.
A New World Car
A truly global car designed to satisfy the world's thirst for a practical and aesthetically pleasing all-electric vehicle, the Bolt is just as at home on the streets of Paris or Rome as it is cruising Main Street, U.S.A. With an estimated range of more than 200 miles, the ability to achieve an 80% DC charge in less than 45 minutes, and a projected price of around $30,000 after federal tax credits, the visionary and remarkably affordable Chevy Bolt is as much a breakthrough in price as it is in innovative technology.
It is rumored that a production version of the Bolt concept vehicle will hit Chevy showrooms sometime in 2017.
Get an Electrifying Deal On Your New Chevy
If you're looking for exceptional savings on a new 2015 Chevrolet, then be sure and stop by one of these McCarthy Auto Group Chevy dealerships:
McCarthy Chevrolet, 675 N. Rawhide Drive, Olanthe, KS 66061
Sales: 877-460-5408; Service: 877-460-5939
McCarthy Chevrolet Lee's Summit, 945 SE Oldham Parkway, Lee's Summit, MO 64081
Sales: 888-769-1821; Service: 816-875-3816
McCarthy Morse Chevrolet, 9201 Metcalf Ave., Overland Park, KS 66212
Sales: 877-461-6993; Service: 877-460-6301
Sources:
http://www.naias.com/virtual-show/photo-tour.aspx?exh=1684
http://www.chevrolet.com/culture/article/bolt-ev-concept-car.html
http://www.caranddriver.com/news/chevrolet-bolt-ev-concept-photos-and-info-news