If you are graduating from KU, UMKC, the University of Missouri, or any of the other colleges in the area this summer, all of us at the McCarthy Auto Group extend our congratulations on a job well done. Now that you've "turned your tassel" and received your diploma, you may be considering buying your first car. If so, you may have a lot of questions regarding the right way to go about making this important purchase. This may be the first major purchase you'll be making without assistance from your parents.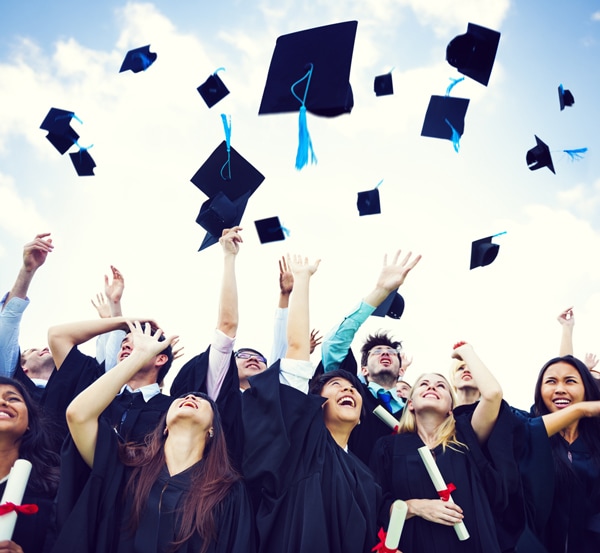 McCarthy Auto Group wants to help by providing you with this handy car-buying guide for college graduates. We hope that this road map will assist you in successfully navigating the process of buying a new car for the first time. Additionally, Chevy, Hyundai, Nissan, and Toyota all have special financing programs just for college graduates that will make it easier for you to obtain your new vehicle from any of our seven McCarthy Auto Group dealerships. We'll get to that a little later.
First, here are 8 college grad car-buying tips:
Create a budget - Write down all of your expenses, like rent, health insurance, entertainment, utilities, and groceries. Be realistic. Remember that cars are expensive to own and maintain; requiring regular maintenance, auto insurance, and fuel.
Buy what you can afford - Remember that you are obligating yourself to make regular payments for two, three, four years, or more. So now that you have a budget in hand, you can figure out just how much you can afford in car payments each month.
Buy what you need, not what you want - Before you hit the showroom, manage your expectations by determining the kind of car you really need. That being said, you don't want to be stuck in a car you hate. If you can juggle your budget and still live within your means, you may still be able to afford the car you want, as long as it doesn't break the bank.
Do your homework - Be an informed consumer. There are plenty of online resources like consumerreports.org, kbb.com, and Edmunds.com, that will give you an objective perspective on what cars to buy. You can also read car reviews on motortrend.com, caranddriver.com, and other automotive magazines.
Take a test drive - Once you've picked out your car, done your research, and have your budget in order, head over to one of our McCarthy dealerships and take a test drive. Ask yourself: Does it feel comfortable? Does it meet my expectations? Drive the car both on the highway and on city streets. Have the salesperson go through all of the features so you understand how the car works.
Get your financing in order - Take the time to understand your credit score, which will tell you approximately what interest rate you are likely to be charged. Carefully read over the sales contract to make sure you understand what you are signing. It's a legal document.
Understand the difference between a lease and a purchase - Leasing a new car is basically renting it for a set number of years at a set monthly payment. You don't build equity in the vehicle, but you do have the option of paying off the remainder or converting the lease to a purchase when the lease comes due. Also, leases have mileage caps on how many miles you can drive per year. Of course, buying a car means that when you've paid it off, you own it. Decide what best fits your finances and your lifestyle.
Enjoy the process - Our sales professionals here at McCarthy Auto Group will make sure that your car-buying experience is positive and hassle free. We're here to serve you. After all, this may be your first car purchase, but it won't be your last. And we hope to earn your business again down the road.
Take advantage of special college graduate financing and bonus programs
This is an exciting time for you to be buying a new car. Many car manufacturers, like the ones listed below, offer special programs especially for college graduates and first-time buyers that are designed to help you purchase a new car. We've provided links to the following college grad financing programs that our McCarthy Auto Group dealerships participate in. Note that each one of these programs has different requirements, so please contact the corresponding McCarthy auto dealership directly for more information:
Congratulations to the Class of 2015!
Sources: