At McCarthy Auto Group, we're more than a family of automobile dealerships; we're your neighbors. As part of our ongoing commitment to local communities here in the greater Kansas City area, we, along with "Lauren Wants to Know," are proud to sponsor free health screenings in partnership with the Diagnostic Imaging Centers, P.A. "Health & Wellmobile." The Health & Wellmobile makes periodic stops at our various McCarthy Auto Group dealerships located throughout the Kansas City area.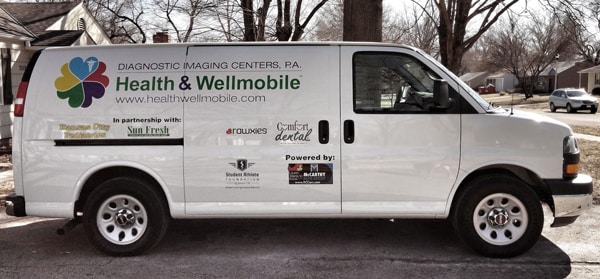 The Health & Wellmobile is a health screening resource on wheels that provides a variety of free health assessment services, including the following:
Learning your true "health age"
Fitness coaching
Healthy eating suggestions
Diabetes screening
Heart disease risk assessment
Breast cancer awareness
Blood pressure tests
And more
May Focus on Health
May is an important month when it comes to health. In fact, May is officially "Global Employee Health and Fitness Month," as well as "American Stroke Awareness Month," and "Mental Health Month."
Global Employee Health and Fitness Month (GEHFM) is a worldwide movement focused on improving healthy diets and lifestyles in different workplace environments. The goal is to educate people on how long periods of sitting and inactivity can lead to obesity, heart disease and other ailments. During May, GEHFM encourages workers to:
Incorporate periods of standing, stretching, and taking brief walks
Introduce after-work fitness meet-ups, including yoga classes, aerobics, walks at local parks, and other accessible exercises.
Encourage coworkers to eat healthy by having healthy potluck lunches focusing on natural ingredients.
Face off with fellow businesses in competitive events like soccer games, tennis matches, and relay races.
Promote preventative treatments and health screenings in the workplace.
May is also Mental Health Month. While there still is lot of misconception about mental illness, during the month of May people are encouraged to help reduce the stigma of these very real diseases by understanding the physical causes and manifestations of such problems as bipolar disorder, obsessive-compulsive disorder (OCD), anxiety, and depression. There are many resources here in Kansas City that help people deal with the often traumatizing nature of mental illness and encourage them to get help in a non-judgmental fashion.
May is also American Stroke Awareness Month. Did you know that one out of every six people will suffer a stroke at some point in their lives? That's why it's vitally important to know the warning signs of strokes and to seek immediate medical attention. Learn how to spot the signs of a stroke using the acronym "F.A.S.T.":
The 'F' stands for 'face drooping,' which can occur in both or one side of the face. It can happen gradually or instantly depending on the severity of the stroke.
The 'A' stands for 'arm weakness.' If you notice that your arm is unable to perform normal activities, or if it feels tired, it might signal that a stroke is happening.
The 'S' stands for 'speech difficulty.' If slurred speech or difficulty forming or remembering words is happening, it is a definite sign of a stroke.
The 'T' stands for its 'time to call 911.' If any or all of these symptoms are present, it's time to make an emergency phone call. The moments between when a stroke begins and when the sufferer receives help can be the difference between life and death.
All of us at the McCarthy Auto Group family of
car dealerships in the Kansas City area
encourage everyone to take advantage of the free health screenings provided by the Health & Wellmobile, as well as to learn about the importance of living a healthy lifestyle all year long.