At the McCarthy Auto Group family of dealerships, we have a long history of working hard to find the right car to fit our customers' budgets and needs. Our goal at each of our
Kansas City car dealerships
is to make sure you are completely satisfied with your car purchase.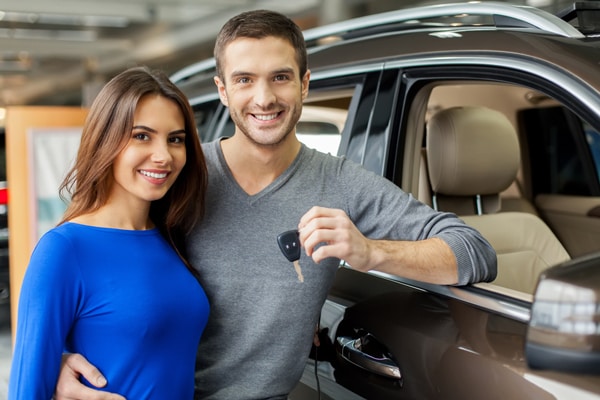 ​
One of the best ways to ensure your satisfaction is to help you to become an informed consumer. Knowing the steps to buying a new car will not only make the process easier for you, but it will also allow our professional salespeople to serve you better.
We hope that the following 10 new car buying tips (courtesy of KBB.com) will be a valuable resource when you decide to visit one of our conveniently located new and used car dealerships for your next new car purchase.

1. Know What Kind of Shopper You Are
Shoppers come in all shapes, sizes, and types. Learning what kind of shopper you are before you step onto the lot will help you to understand better what type of vehicle you are looking for. Some of the most common shopping styles are:
Bargain-Minded - You want the most "bang for the buck," but you will pay for higher quality if the price is right.
Image-Conscious - You are less concerned about the car's mechanical features and more interested in how it reflects your personal style.
Deliberate - You are someone who likes to "sweat the details." You look at buying a new car from every conceivable angle and thoroughly do your homework.
Safety First - Your first and foremost concern is safety. Your goal is to buy a new car with the latest safety features and highest safety ratings.

2. Come Up With A Short List Of Wants And Needs
Sit down and figure out just what you need from your new car. What will you be using it for the most? What key features are important? Will you use your new car primarily for pleasure or work? Are advanced safety and technology features at the top of your list? Is fuel economy a big factor, or are you more interested in performance? When you visit any of our McCarthy Auto Group dealer websites, you can do your own side-by-side comparison of different makes and models to help you decide just what car best suits your requirements.
3. Come Up With A Reasonable Budget
With all the different financing options available these days, it's becoming harder to zero in on just how much you can afford to spend on a new car. It's important to be honest and objective about how much you really can afford to spend. Take such factors as your monthly payment, the amount financed, the Annual Percentage Rate, the length of the loan, and the actual retail price of the vehicle. It's also important to know your credit score. If you have a car to trade in, this will also affect how much you will be paying for your new car. The best advice is to be realistic. The trained finance professionals at our dealerships will sit down with you and help you through this process. You can also take advantage of our
online payment calculator
to get a ballpark figure for how much your monthly payments will be.

4. Do Your Online Homework
Fortunately for today's savvy car buyers, the Internet offers a wealth of objective, independent information about new cars. Websites such as KellyBlueBook.com, Edmunds.com, and ConsumerReports.com - to name but a few - provide you with detailed reviews, side-by-side comparisons, and owner opinions. We also have many sales tools on our website that are designed to take the guesswork out of buying a new car. By doing your research online before you walk into the showroom, you'll be miles ahead of the game.

5. Know the Difference between Leasing and Buying
When you lease a car, you are essentially "renting" it for a set period. If you don't want the hassle of trading your car in, or you like to get a new car every couple of years, this option may be right for you. Lower monthly payments and less or sometimes no money down incentives make leases attractive.
However, it's important to understand restrictions such as mileage restrictions and early termination penalties before you sign on the dotted line. Buying a new car, on the other hand, means that you are financing the purchase through a bank or lending institution. After you pay off the loan in full, you own the car, and won't need to worry about the condition of the vehicle when you return it. You can also customize your new car and drive it for as many miles as you want.

6. Financing By The Numbers
Financing a vehicle can be bewildering. The first step is to know your credit score. Your credit score will significantly impact the interest rate you will pay on the amount financed. If your creditworthiness is less than stellar, you can still get financed, but at a higher interest rate that will affect your monthly payments, as well as the price you'll ultimately pay for your new car.

7. Warranties and Insurance
Extended service contracts and warranties are other things to consider. Various manufacturers offer extended warranties and service contracts that that cover a wide range of repairs. These service contracts could save you a lot of money down the road. However, you need to factor the cost into how much you will be paying for the car. Additionally, you need to consider the cost of insurance. Your driving record will impact how much insurance you will pay for your new car. Sports cars, high-performance, vehicles, and off-road vehicles may cost more to insure, so keep that in mind.

8. To Trade or Not to Trade
That is the question on the minds of many car buyers today. There are pros and cons to both. If you trade your car in at a dealership, be prepared to be offered a price that is less than what you think the car is worth. Bear in mind that the dealer looks at your trade-in based on what reconditioning it must undergo to be put on the lot, so the condition and mileage of your trade-in will play a key role.
However, you may be willing to sacrifice getting a potentially higher price for your trade-in if you want to avoid the hassle of selling it yourself. A big benefit to trading your car in at a dealership is that the dealer handles all the paperwork and makes the process a lot easier. In fact, you can use McCarthy Auto Group's
online trade-in appraisal
form to get an idea as to what it's worth.
9. Take Advantage of Online Shopping
Looking for a new car online has never been easier. At
McCarthyAutoGroup.com
, you can browse literally hundreds of new vehicles from the comfort of your home. Because we represent four major brands - Chevrolet, Hyundai, Nissan and Toyota - you have an amazing selection to choose from. All the information you need to browse, compare, and select your next new car from one of our dealerships is right at your fingertips. You can even shop dealer and
manufacturer incentives
and line up financing before you even visit one of our dealerships. By narrowing down your car-buying shopping list, you'll be better prepared to buy.

10. Optimizing Your Test Drive
​You've done your homework and narrowed down your choices to a few different vehicles. Now it's finally time to head to one of our local McCarthy KC auto dealers, get behind the wheel, and take that new car out for a spin. The first thing to do is a thorough walk-around of the vehicle with your salesperson to make sure all looks new and pristine. Get comfortable in the driver's seat and see if all the controls are within easy reach. Check the sound system for clarity. Get in the back seat, buckle up and see how comfortable it is.

When you take the car on the road, pay attention to ride comfort. Is it smooth or harsh? Listen for excessive engine or wind noise. Does the engine respond smoothly? Does the car handle predictably, responsively, and confidently? Does it maneuver well in tight spaces? Does it brake smoothly and surely? Be sure and test drive the vehicle on the highway, on city streets in stop and go traffic, and over rough roads, if possible. Ultimately, you'll know if the car is the one for you because it just feels right.
Now that you're armed with the knowledge and expertise you need to buy a new car, we hope you'll visit one of our
conveniently located McCarthy Auto Group dealerships
here in the greater Kansas City area. We want your next new car purchase to be the right purchase for you. We invite you to view our online inventory of more than 1,500
new cars in Kansas City
from your computer, tablet, or smartphone. When you find a car you're interested in, contact any of our dealerships for more details.

Source: