The new 2017 models are on their way, and we're giving you a sneak peek before these model-year arrivals land at the McCarthy Auto Group dealerships throughout the greater Kansas City area. These new 2017 Chevys, Buicks, GMC trucks, Hyundais, Nissans, and Toyotas, are exciting additions to our incredible lineup of new cars for sale near Kansas City. You'll be one of the first to know about these trend-setting new models from some of the world's top automotive manufacturers.
So let's get started!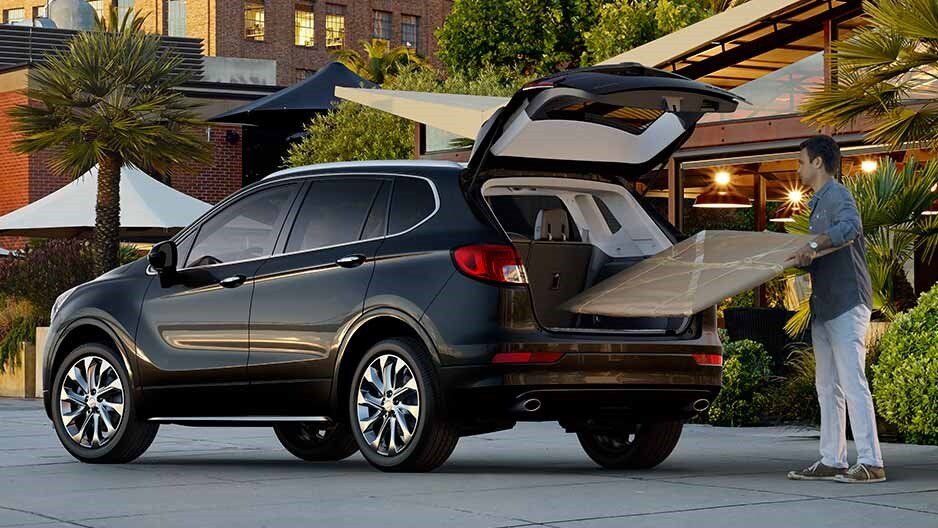 2017 Buick Envision SUV
As Buick's first-ever small luxury SUV, the 2017 Envision catapults the automaker into one of the most hotly contested automotive categories. With its unique and contemporary styling, the new Buick Envision will not only be turning heads but gaining converts in this crowded automotive sector. And you can check out the 2017 Envision now in our dealership showrooms!
The 2017 Envision perfectly captures Buick's signature appearance with its classic "waterfall" grille emblazoned with Buick's familiar tri-shield logo. A hallmark of Buick design is a sleekly fluid silhouette that combines elegance and artfulness with an eye toward aerodynamic efficiency. With its available, cat-like LED framed projector-beam headlights, bold taillights, integrated rear spoiler, custom 19-inch available sport alloy wheels, and swept-back roofline, the Envision balances sophistication with poised athleticism for an unmistakable look.
On the inside, the Envision's quiet and spacious 5-passenger interior confirms its status as a luxury SUV. Premium materials such as available supple leather seats, cleverly designed storage areas, wood-toned accents, and a zealous attention to detail put the Envision in a class by itself. Plus, the Envision's versatile layout affords plenty of flexible space for all sorts of cargo with fold-flat rear seats.

2017 Chevy Trax Crossover SUV
People will surely be making "tracks" to our McCarthy Chevy dealerships around Kansas City to check out the exciting new 2017 Chevy Trax. Fun to drive, easy to park, and filled with youthful energy, the new 2017 Trax is the ultimate urban commuter.
Available this fall, the 2017 Trax SUV's roomy interior gets a makeover with a redesigned chrome-accented instrument panel, a high-gloss finish on the center console, and finely stitched seats convey a sense of quality and refinement. The Trax is also supremely versatile, offering split folding rear seats that let you have your cargo your way. And the Trax lets you plug into your favorite technology with available Apple CarPlay™, Android Auto™, and a crisp color 7-inch touchscreen display leading the way. Plus, stay connected to the Internet on the go with the Trax's available, built-in 4G LTE Wi-Fi hotspot. The new Trax is style for the city thanks to its hip, fresh, and contemporary exterior. Available halogen projector-beam headlights with LED accents, a wide sporty stance, muscular front lower fascia, and available 18-inch, 5-spoke sport alloy wheels declare that you're going places.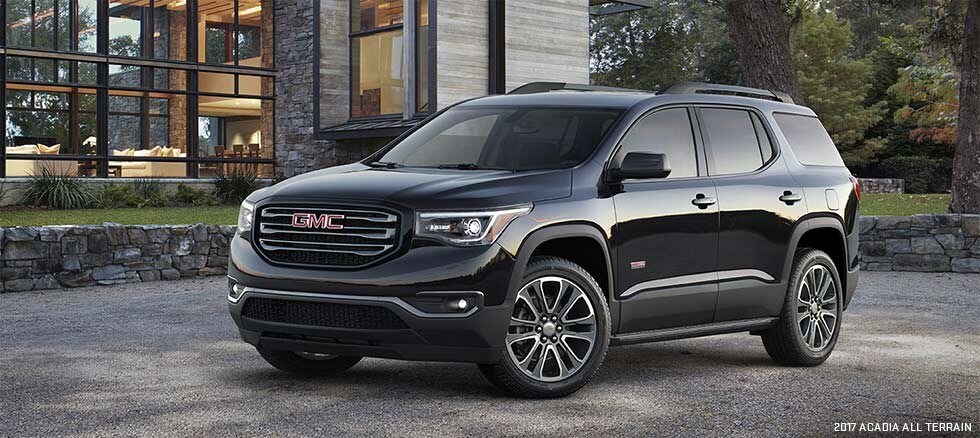 2017 GMC Acadia SUV
GMC's popular Acadia midsize SUV is all new for 2017. Coming in three models, the well-equipped Acadia, ruggedly handsome Acadia All-Terrain, and upscale Acadia Denali, GMC's entry in the crowded midsize SUV field sheds weight and features a more sophisticated and aerodynamic design. Its new authoritative exterior features signature LED lighting, new wheel choices, three distinctive front grilles, and unique trim accents.
The new 2017 GMC Acadia departs from its larger predecessors with a smaller footprint that's better on gas, easier to maneuver, and more fun to drive. In fact, it loses 7 inches overall and a whopping 740 pounds compared to previous models. Nonetheless, the Acadia still has plenty of room for up to 7 passengers and plenty of gear with a generous 79 cubic feet of configurable cargo capacity. A fold-flat split 3rd-row bench seat with available SmartSlide™ for easy access and an available Power Liftgate gives the new Acadia outstanding versatility.
Additionally, the new 2017 Acadia takes luxury to the next level on the All-Terrain and Denali models with sumptuous interiors featuring the finest materials, genuine wood and aluminum accents, and Professional Grade workmanship. Plus, the new Acadia also features the newest technology, including an available 4G LTE Wi-Fi hotspot, Apple CarPlay™, Android Auto™, Bluetooth® wireless connectivity, turn-by-turn navigation, voice-activated functions, and so much more.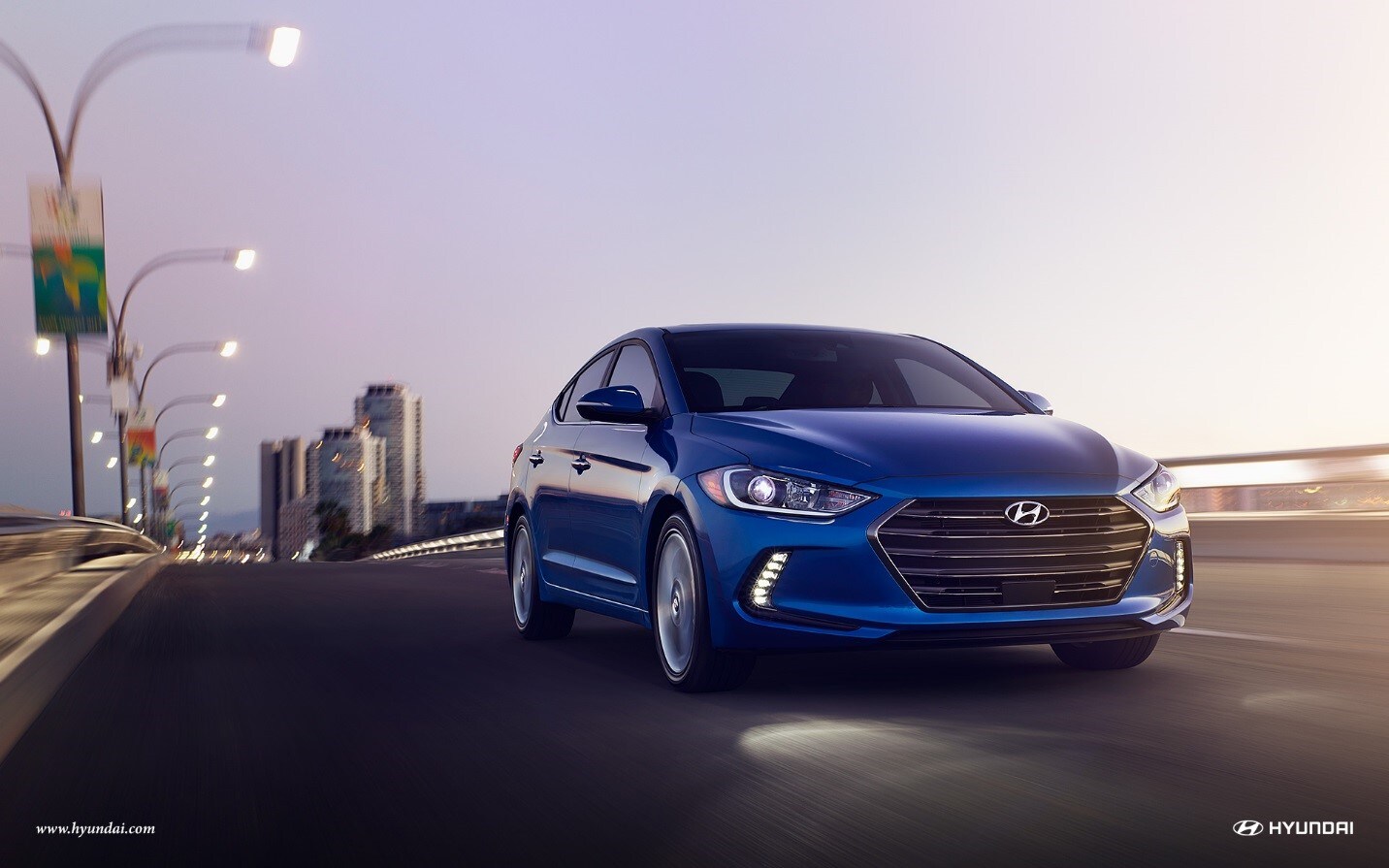 2017 Hyundai Elantra
The all-new 2017 Hyundai Elantra for sale near Kansas City debuts at your McCarthy Auto Group Hyundai dealerships with a bold new attitude. Dramatically reimagined for 2017, the brilliant new Elantra debuts with a stunning new exterior, larger and more refined interior, better fuel economy, and improved performance.
Beautiful to behold from any angle, the new Hyundai Elantra is clothed in fresh, fashion-forward, and contemporary new sheetmetal. One could even call the Elantra's svelte, aerodynamic new design sexy because of its many alluring qualities such as a large hexagonal grille, fluid lines, new front intakes with available LED accent lighting, a sweeping coupe-like roofline, and stylized available sport alloy wheels.
One of the new features on the 2017 Elantra is its class-exclusive hands-free Smart Trunk. It automatically opens when it senses your Proximity Key within three feet of the car's rear. Other key enhancements for 2017 include an available HID Dynamic Bending Lighting System that turns with the headlights as you turn into a curve. Also, the new Elantra now features Automatic Emergency Braking with a segment-first Pedestrian Detection capability.
With more total space and cargo capacity than several of its rivals, the 2017 Elantra's restyled interior puts a premium on unexpected luxury, refinement, and the latest technology like Apple CarPlay™, Android Auto™, Siri® Eyes Free, and Bluetooth®. From available upscale appointment such as leather seats, brushed aluminum accents, and amazing spaciousness. Such convenient touches as available dual-zone climate control, a class-exclusive power driver's seat with integrated memory, and a superlative, segment-first Infinity® audio system set the new Elantra apart from the ordinary.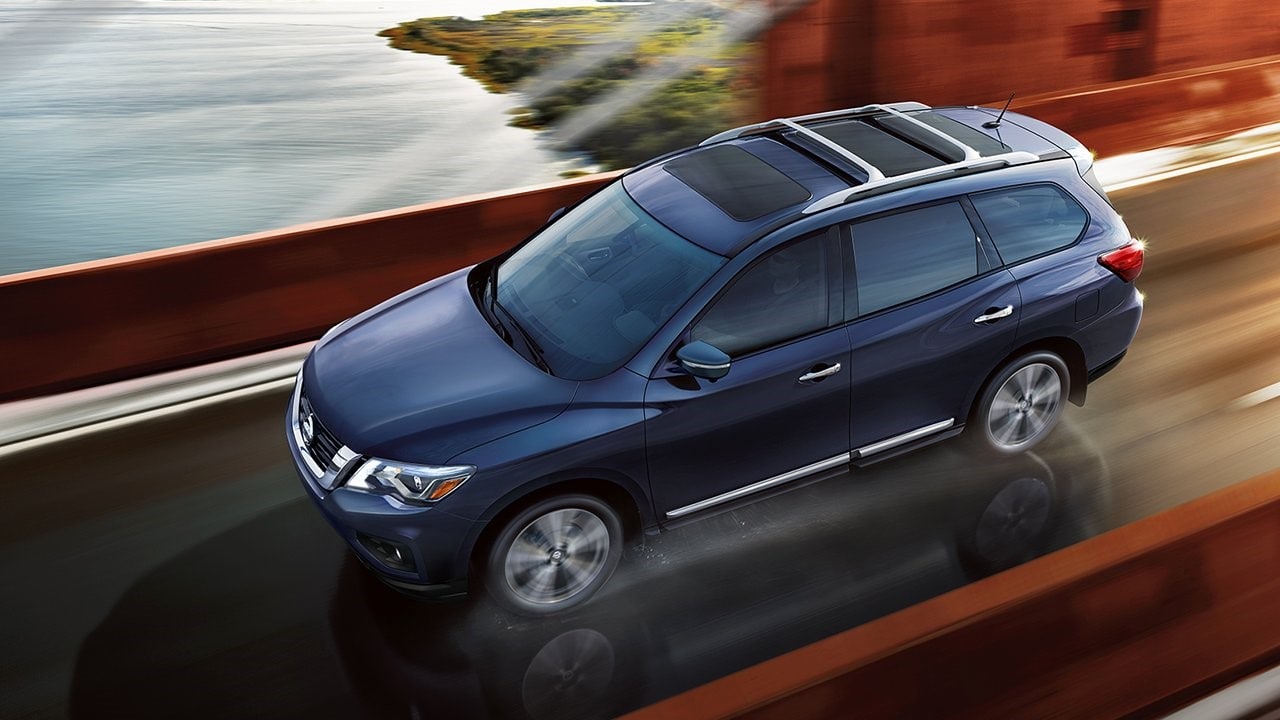 2017 Nissan Pathfinder
One of Nissan's most popular vehicles and one of America's most popular SUVs, the legendary Pathfinder forges new paths with bold new styling and capabilities, an upgraded interior, a new engine, and improved suspension and handling.
The 2017 Pathfinder's dynamically redesigned exterior conforms to Nissan's updated design philosophy evident throughout it lineup with a muscular new chrome-accented grille, redesigned LED-accented headlights, muscular hood creases, a lower and wider stance, and new available 20-inch alloy wheels. The Pathfinder's assertive new looks are complemented by expressive creases and body lines, a more aerodynamic roofline, striking new rear taillights, an integrated roof spoiler, and athletic wheel arches.
Nissan engineers took a clean sheet of paper and redesigned the Pathfinder's already excellent interior, making it roomier, classier, more versatile, and more appealing than ever before. The new Pathfinder's cockpit indulges passengers with available premium quality leather seating, wood-grained accents, more head and legroom, and first-class appointments throughout. Technology also gets an upgrade in the newest 2017 Pathfinder in 30 years with a new 8-inch color touchscreen display, multiple USB ports, and the latest infotainment capabilities, including navigation, voice-activated controls, Bluetooth®, and a new Tri-Zone entertainment system with dual rear monitors.
But what really sets this all-new 2017 Pathfinder apart is both under the hood and where the rubber meets the road. The Pathfinder rolls into tomorrow with an all-new and more powerful 3.5-liter DOHC V6 engine that pumps out 284 horsepower and 259 lb.-ft. of torque for rated towing capacity of up to 6,000 pounds. Talk about high-performance.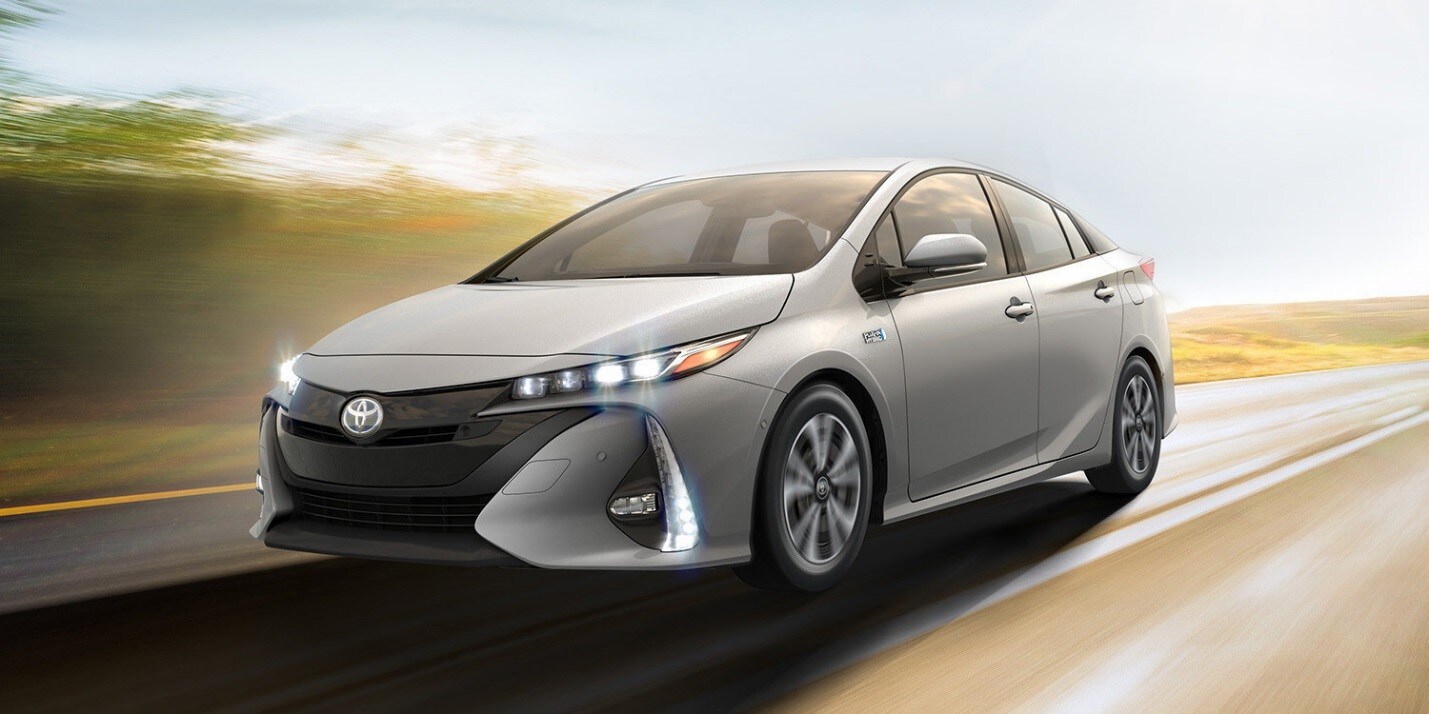 2017 Toyota Prius Prime Plug-In Hybrid
Toyota once again proves that it's one of the world's top manufacturers of advanced hybrid technology with the all-new 2017 Prius Prime, a plug-in hybrid for a new generation of drivers. Wearing stunning, ultra modern sheetmetal, the Prius Prime is all new outside and inside. And with it, Toyota debuts its first dual-motor drive that accelerates your driving experience with more performance and a longer range than previous Prius models.
The Prime's futuristic new exterior wears a dramatic new profile engineered to provide the maximum aerodynamic efficiency. Like an arrow in flight, the new Prius Prime's sloping hood points the way, bracketed by a string of dazzling Quad LED headlights on either side. Air scoops on either side of the new lower fascia are accented with brilliant, razor-thin vertical LEDs. Every inch of the Prius Prime's exterior has been crafted minimize wind resistance while accentuating style. A rolling showcase of Toyota's groundbreaking innovation in hybrid technology and intelligent design, the Prius's new lightweight carbon-fiber reinforced rear hatch is one of the many Toyota-firsts that primes the Prius Prime for success.
Equally advanced is the Prius Prime's remarkable new interior. The centerpiece is a tablet PC-sized, 11.6-inch HD Multi-Information touchscreen display that dominates the center stack. It functions as the Prius Prime's futuristic infotainment, communication, and navigational command center, much like the same displays found in Tesla electric luxury vehicles costing more than $100,000. With ample room for five, the Prius Prime also takes comfort, quality, and luxury, and convenience to new levels. Available Qi wireless smartphone charging is just one of the many smart features that define the Prius Prime's forward-thinking status.
The Future Is Waiting At Your McCarthy Auto Group Dealerships
Now that you've gotten a glimpse of what 2017 has in store for car buyers, it's time to explore many of these new vehicles for yourself by visiting one of our McCarthy dealerships near Kansas City. Our dealerships can be found in the Missouri and Kansas areas of Blue Springs, Lee's Summit, Sedalia, Olathe, Overland Park, and Kansas City. For a complete list of all our McCarthy Auto Group dealerships in or near Kansas City, please click here.
Many of these new models will be available later this year or early next year. Please contact your nearest McCarthy dealership directly for more up-to-date information. If you're in the market for top quality used cars for sale near Kansas City right now, check out our huge inventory of Certified Pre-owned vehicles for sale near Kansas City.
Sources:
http://www.buick.com/previous-year/envision-small-luxury-suv.html
http://www.chevrolet.com/2017-trax.html
https://www.hyundaiusa.com/elantra/index.aspx
http://www.gmc.com/suvs/choose-your-acadia-mid-size-suv.html
http://www.nissanusa.com/suvs/2017-pathfinder
http://www.toyota.com/upcoming-vehicles/prius-prime/