​
We all have our vices—mine is snacking late at night—but perhaps none is worse than texting while driving. Accounting for about 25% of
all
vehicle accidents, distracted driving (particularly texting

)

is undoubtedly a main reason why US vehicle collisions have risen sharply within the last decade.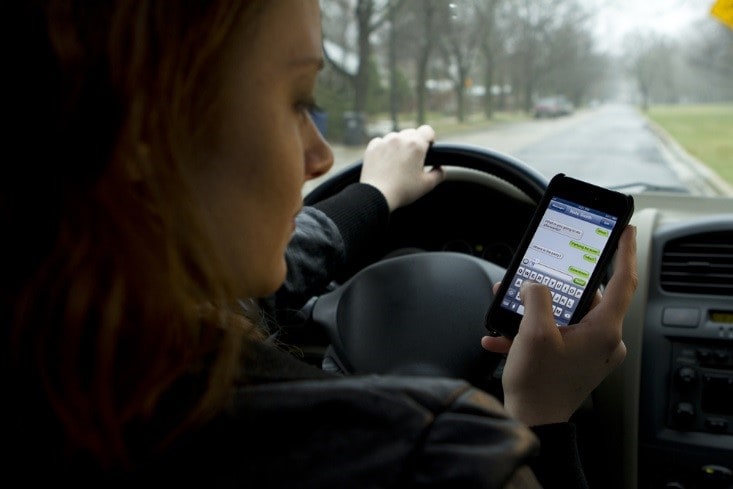 ​
In 2012 alone, nearly 500,000 people were wounded in accidents caused by a distracted driver. Worse yet, more than 3,300 people were wheeled into a morgue because of a driver who just had to text an "lol" response to their friends.
Teaming up with Kendall Schoenekase, Miss Johnson County and Miss Kansas of 2016 (Congratulations, Kendall!), McCarthy Auto Group is raising awareness to help fight this growing epidemic. By educating parents and teens about the dangers of texting while driving, and with numerous car safety features being produced by auto manufacturers to combat this problem, we're hopeful that distracted driving will become a thing of the past.
Help us promote the cause, and let's enjoy a brighter future because of our collective efforts. Visit Miss Schoenekase's website at kansanscarecampaign.com to order a support bracelet, and share our blog with your family and friends in Kansas, Missouri, and around the world.
Automotive Safety Technology to Battle Distracted Driving
Over the last several years, with the rise of teenage and distracted-driver accidents increasing by about 4% annually, auto manufacturers have begun developing new technologies that aim to minimize and eliminate distracted driving—and our Kansas City car dealerships are some of their most vocal supporters.
Infotainment touch screens have become the norm in late-model vehicles, and have helped to mitigate driver distraction. Android Auto, which is available in newer cars (including Hyundai Sonata sedans), mirrors any connected smartphone screen, ultimately eliminating the need to handle the mobile device at all. Other modern safety features like blind-spot detection and lane-change assist give audible and visible alerts when a driver may be distracted—both useful tools for drivers distracted or otherwise. Automatic braking for pedestrians and pre-collision systems also provide additional safeguards from distracted drivers.
Leading the charge into the future of safety technology is Chevrolet. After announcing "Teen Driver" in 2015, Chevy finally introduced it in the 2016 Chevy Malibu , which we sell at our Chevy dealerships in Kansas City. With this new system, parents assign a PIN to their child's key fob and track how well (or poorly) they drive. As the first system in the industry to offer such a feature, Teen Driver also allows parents to perform the following actions:
Mute the radio automatically when seat belts are unfastened.
Set the radio's max volume.
Select maximum speed limits, which will activate a warning chime and visual when exceeded.
Track distance driven, max speed traveled, over-speed warnings issued, stability control events, antilock brake events, and more.
Turn safety features, such as blind-spot alerts, to be always on.
Restrict the driver's ability to turn on and off certain features.
Chevrolet plans to offer Teen Driver in future vehicles and Malibu models.
Ford has also stepped into the market by offering MyKey, a feature similar to Teen Driver. With it, parents can block calls and texts while their teens are driving, mute audio when seatbelts are unfastened, and alert drivers to slow down when reaching high speeds. MyKey was introduced in 2010, so vehicles from our used car dealers near Kansas City may even offer you a perfect balance of savings and safety.
Hyundai BlueLink, which offers speed notification features, curfew alerts, and geographic parameters via GPS, doesn't have a distracted-driver setting, but one is in the works.
Nissan's Connect and Driver Detection Alert systems offer touchscreen features like Google Search and Advanced Drive-Assist information to alleviate driving-induced hassles, as well as the capability to learn from a driver's habits and provide assistance in a variety of ways.
GM has even started to develop new eye-tracking technology that will help to detect when drivers avert their eyes from the road.
Additional Distracted Driving Info & Resources
The key to solving this crisis is to become properly educated in safe-driving techniques, and setting examples for young drivers. Here are some additional resources and statistics about texting and driving you can use to change the status quo:
Distracted driving is any activity that diverts a driver's attention from the road. These activities include talking on the phone, eating and drinking, reading, watching videos, adjusting the radio, and (of course) texting, which is by far the most distracting. The National Safety Council believes that over 1.6 million accidents per year are directly caused by cell phone use and/or texting.
According to the NHTSA, 10% of all deadly crashes involving 15- to 19-year-old drivers were caused by texting while driving. Some stats even claim this number to be higher than 20%. But this issue isn't solely plaguing our youngest generation of license owners. 50% of surveyed adults have admitted to texting while behind the wheel. Comparatively, only 47% of teens "admitted" to the same.
On average, drivers reportedly take their eyes off the road for approximately five seconds when texting—just enough time to cover 100 yards, or the distance of a football field, going 55mph. Five seconds! Car accidents involving teens are common in and of themselves; add into the equation a distracted driver whose eyes are off the road for 5 seconds and teens are 23 times more likely to be involved in a crash.
Many states have banned texting while driving, including Kansas.
The FCC is continually working with safety, government, and industry organizations to better educate the public. You can visit their website at fcc.gov.
Toyota has a great educational program for parents, which can be found at toyota.com.
Several mobile apps exist that reduce or eliminate texting and driving. Read about a few here.
Visit McCarthy Auto Group & Support the Cause
McCarthy Auto Group is a leader in the automotive industry, and our Kansas City car dealerships want to spread the word that texting and driving will end on our watch. As technology improves and we become better educated as a society, accidents related to distract driving will become a statistical anomaly.
Ready to start the revolution? Browse our online inventory of new and certified pre-owned cars with state-of-the-art safety features today, and reduce your or your teen's risk of being distracted while behind the wheel.
Sources:
http://kansanscarecampaign.com/
https://www.facebook.com/missjoco2016/
http://www.howsafeisyourcar.com.au/Safety-Features/Safety-Features-List/
http://www.autonews.com/article/20150324/OEM06/150329951/chevrolets-teen-driver-safety-feature-to-debut-on-redesigned-malibu
https://www.fcc.gov/consumers/guides/dangers-texting-while-driving
http://www.huffingtonpost.com/entry/how-car-companies-are-combatting-texting-while-driving_us_55771263e4b0317a2afd3fdc
http://www.insuramatch.com/news/six-apps-prevent-texting-while-driving
https://www.pastemagazine.com/articles/2015/04/new-nissan-safety-feature-to-alert-drowsy-or-distr.html
http://www.distraction.gov/stats-research-laws/facts-and-statistics.html
http://www.ghsa.org/html/stateinfo/laws/cellphone_laws.html