Ladies and gentlemen, start your engines! The exciting and fun-filled 2016 Greater Kansas City International Auto Show® returns to Bartle Hall March 2 - 6. Billed as "AutoFest," the annual automotive showcase takes over Kansas City's cavernous Bartle Hall at the K.C. Convention Center for five days of high-octane excitement for the entire family. Whether you're a "gearhead", classic car enthusiast, love muscle cars, or just like to see the hottest and newest creations from the world's automakers, this is the place for you.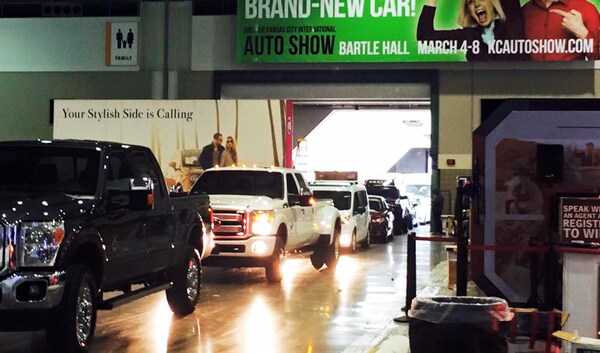 Vehicles file into Bartle Hall for the 2015 Kansas City Auto Show. Photo credit: Kansas City Auto Show facebook page.
Here at the McCarthy Auto Group family of Kansas City car dealers, we're excited about the opportunity for you (and for us!) to see the latest vehicles and innovations from Chevrolet, Buick, GMC, Hyundai, Nissan, and Toyota on display.
With more than 500 vehicles to see at the 2016 Kansas City Auto Show, there's plenty of chances for you to get behind the wheel and check out all the new features available on today's latest models. Find out how technology is changing the way we drive and interact with cars. Get under the hood and marvel at the newest fuel-efficient engines. Learn about all of the cutting-edge safety features that are helping to make our roadways safer. You can even test drive select models from various manufacturers.
But that's just the beginning of what's in store during Kansas City's premier automotive showcase. Visit the "KC Garage" and quench your thirst with a selection of ice-cold craft beers. Hungry? They've got you covered with a special guest appearance by "The Food Truck Mafia." Bochi, Crave of Kansas City, Beauty of the Bistro, KC BBQ Truck, Monk's Roast Beef, Savanna Jane Lemonade, and Ohana's Shaved Ice will be serving up an array of freshly prepared fare sure to satisfy any appetite.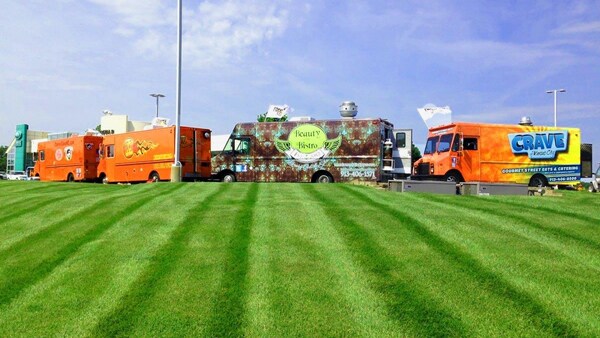 The "Food Truck Mafia." Photo credit: KCAutoShow.com

Got kids? There's plenty of fun automotive-themed activities for the young ones. The "Kids Korner" features a special sneak-peek appearance by LEGO® KidsFest. If your kids love LEGOs, then they'll have a blast building and racing their own custom LEGO cars, as well as have a chance to take pictures with life-size LEGO versions of Superman, Star Wars' Boba Fett, Cinderella, and even a "ferocious" tiger.
To give parents a chance to enjoy AutoFest without the little ones in tow, you can drop off your children ages 4 - 9 at a special Paradise Park area for up to two hours. Retired Paradise Park teachers will have plenty of car-themed activities to help keep the kids entertained.
If you get nostalgic about "The Good Old Days," or if you'd just like to see how automobiles have evolved over the years, you won't want to miss a fascinating showcase of antique and classic vehicles brought to you by the Art of the Car Consours and the Kansas City Automotive Museum. You'll even get a chance to take a selfie with six antique fire trucks.
As a special surprise, there will be a guest appearance by the one and only "Moose Mobile" to celebrate our hometown Royals' World Series Championship. This crazy, Royals Blue vehicle with the huge antlers was customized by avid Royals fan Craig Rookstool to show his love for Royals' third baseman Mike "Moose" Moustakas.
So get in gear and head on out to this year's Kansas City Auto Show. We hope to see you there!
Put Your Savings In To Overdrive at a McCarthy Auto Group Dealership
Fuel the savings on your next new or used car purchase at one of our many conveniently located McCarthy Auto Group car dealerships. We have more than 1,500 top-quality new and used cars for sale in the Kansas City area to choose from.
If you're looking for a money-saving deal on used cars in Kansas City, we can put you in a Certified Pre-Owned vehicle for less. If you're in the market for a new or used Chevy, Hyundai, Nissan, or Toyota in Kansas City, you'll find everything you're looking for, and more, at an affordable price.
When you need a professional auto repair shop near Kansas City, McCarthy Collision Centers are the name to trust. Our skilled technicians are factory trained, use nothing but the latest equipment and genuine OEM auto parts to keep your vehicle in "like new" condition. Call 1-800-NEW-AGAIN to speak with a member of our team.
For a complete list of McCarthy auto dealerships near you, please click here.
Sources:
http://www.kmbc.com/news/moose-man-gains-notoriety-among-royals-fans/35726898

Photo Credits: