To keep our children safe and secure, parents will go to the edge of the world and back. They'll buy hormone-free milk, zero-BPA bottles, and organic pea puree. But if there's one purchase to be made that objectively provides safety to our kids, it's their car seat. Auto accidents are one of the leading causes of death and injury for children, so make sure they're in the right safety seat each and every time you turn the ignition. Otherwise, you might be dealing with more than a simple visit to our auto service center and body shop.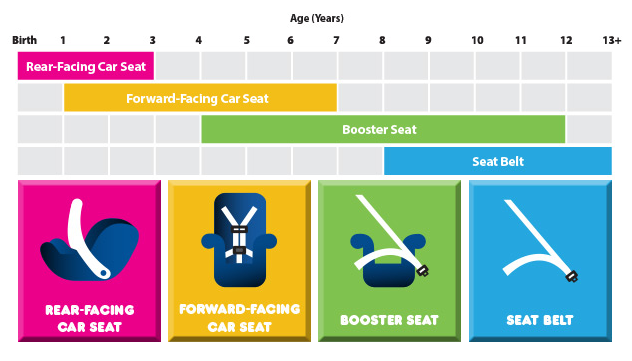 Explore and discover all your child car seat options below to help you make perhaps one of the most important decisions of your life.
The Three Types of Safety Seats
As your kiddo grows, you'll find yourself buying them a new pair of sneakers seemingly every month. But shoes aren't the only things they'll outgrow. As they get taller and heavier, they'll also need an upgraded car seat. Here are the three main seats you'll find.
A Re

ar-Facing Car Seat is required for children up to the age of 1, or until they are heavier than 20 pounds. Some experts recommend keeping children up to the age of 3 in a rear-facing seat. Infant car seats, convertible seats, and all-in-one seats can be positioned to face backward.

Forward-Facing Car Seats include all-in-one and convertible seats, as well as a "combination" seat. Your child can transition to a forward-facing seat once they reach the maximum height or weight limit as recommended by the manufacturer.

The transition to a Booster Seat is the first step toward big-kid status. In both Missouri and Kansas, children older than 4 must remain in a booster seat until they're at least 8 years old, weigh over 80 pounds, or are over 4' 9" tall. The two primary types of booster seats come with a high back or completely backless.
Our recommendations? If you have a smaller sedan, stick with a car seat that isn't too cumbersome (convertible seats can be quite bulky). All-in-one seats are economical choices since they can seat children from birth and all the way up until they're able to use a seat belt. As always, refer to your car seat's manufacturer for all recommended height and weight limits.
Other Car Seat Requirements & Resources
With your choice of car seat made, you should make sure everything else is in order before fastening your lil' bugger in for the first time.
Find your model number and the date of manufacturing. To stay informed of recalls, you'll want to have this important information. If possible, always send your information to the manufacturer to be alerted of recalls. You can also check online at

the NHTSA site

.

Understand your warranty coverage. If you buy new, the warranty shouldn't be a problem; if you purchase a used car seat, you'll want to ensure it's still effective. If it's not, that seat should be recycled.

Following a moderate or major collision, it's recommended that you replace any car seat to ensure a high level of protection in the future. Our

collision repair centers around KC

can repair your car, but it's in your best interest to ask your insurance company to replace the car seat.

Check for damage. Any crack, chip, missing piece, or other defect is a sign that the seat isn't suited for use. Take or send it back and get a replacement.

Keep your instruction manual in your glovebox. You never know when you'll need to adjust something.

Remove winter clothing before buckling in your child. In the event of an accident, the harness and straps may be too loose to be effective in keeping your child safe.

Install your seat properly. An improperly mounted child seat won't just net you a fine in Missouri, but it could severely endanger your child's safety. For free assistance with installing a car seat, or to get an inspection, visit safercar.gov

.

If you own a vehicle without a back seat, like a small pickup truck, you

must

disable the air bags before buckling your child in the front seat. However, the risk of

injury or death of a child is increased by over 30%

when they're fastened in the front seat.
Buy a Safe Car in Kansas City
To further ensure that you and your loved ones stay safe when on the road, take advantage of modern technology by buying a new car from McCarthy Auto Group. Our Kansas City auto dealerships have everything from the newest 2017 models to certified used vehicles with the latest advancements to help reduce the risk of injury. Browse through our inventory online and contact your nearest McCarthy auto dealers near Kansas City to take a test drive.
Sources:
https://www.safercar.gov/parents/carseats/Car-Seat-Safety.htm?view=full
http://www.safercar.gov/parents/RightSeat.htm
http://www.dmv.org/mo-missouri/safety-laws.php
http://www.dmv.org/ks-kansas/safety-laws.php
http://www.safercar.gov/cpsApp/cps/index.htm
http://www.carseat.org/Resources/FAQs.htm
Photo Sources:
https://www.safercar.gov/parents/carseats/Right-Car-Seat-Age-Size.htm?view=full